Read Time:
3 Minute, 32 Second
PEPSI, the cultural curator brand, is getting ready to celebrate Friendship Week in an irreverent way ahead of Friendship Day. Pepsi® recently unveiled an intriguing partnership with the comedian pioneer and acclaimed comedian Zakir Khan, in keeping with its concept of serving as the brand of the generation. Pepsi®'s clever cooperation with Zakir aims to urge friends to support their pals and to "Rise up" from their friendzone scenario. 
In the advertising campaign, Zakir Khan urges the youth to be real friends to one another, to motivate friends to move on, and to guide acquaintances away from the terrible 'friendzone' – a zone from which the next generation is always escaping. Friends using the influence offered by technology to remark on Zakir's article as a call for aid for their friends in 'friendzone' will get a personalized message directly in their inbox that can be shared amongst friends as a pro-tip to swear by. 
Table Of Content
Content Of The Ad
We see Zakir Khan at his comedic best saying  "Yeh jo friendzone hai na, yeh danger zone hai. Isse nikalo, bhaago, aur koi dost fassa hai toh use bachchao. Kyuki doston ki bhi zimmedari hoti hai. Friendzone ke chakkar se you've got to Rise Up Baby!"  Basically we see him saying that friendzone is quite dangerous and he continues to urge everyone to ask their friends to not get friendzoned.
Pepsi's Official Statement
Shailja Joshi, Category Lead, Pepsi Cola, PepsiCo India said, "Pepsi has captivated the youth of India for decades with its irreverence and is known to rewrite the way people see popular occasions each year. Giving Friendship Day a unique twist and inspire the young generation to rise above friendzone with their friends, we could not have asked for a better fit to this campaign than Zakir, the buddy, the OG Sakht Launda. We are confident that Zakir's comedic prowess and popularity will speak to the youth directly and encourage them to be there for their friends as they break free from friendzone along with a chilled bottle of Pepsi."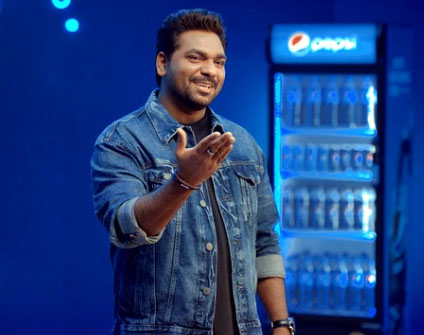 Zakir Khan's Statement
Zakir Khan commented on his excitement to join Pepsi®, "I am elated to be a part of the iconic Pepsi universe – a brand that has been my friend over the years. This campaign is all about breaking free from the friendzone and owning who you are, and I am thrilled to be the voice of this message. With humour as the driving force, we will celebrate friendship, self-expression, and the beauty of being true to oneself. I hope the audience enjoys the video and is inspired to 'Rise Up, Baby!" 
Pepsi's Marketing Strategy
Zakir Khan became a household name all thanks to AIB. Since then his fame and popularity is only increasing. To rope him for this advertisement is a brilliant marketing strategy. Zakir is known for his comedic sketches and stand-ups, most of which revolves around heartbreak, friendzone and his interactions with the opposite gender.
Therefore choosing him for this collaboration is a genius marketing strategy. It is so on brand for the comedian and due to his immense fan following the advertisement has also garnered attention. Pepsi as a brand has come up with a lot of marketing strategies. Most of them are well received while others get caught in the midst of a controversy.
Concluding Remarks
The creative idea of this campaign, brought to life by Leo Burnett India's National Creative Director Vikram Pandey, lends depth and appeal to the message. This ad encourages friends to prevent each other from being friendzoned by capitalising on the observation that friends are generally the first to notice when they are friendzoned. It emphasises the significance of watching out for one another and making true connections.
This upbeat and motivating commercial will surely appeal to young people. Its comprehensive marketing strategy, which includes digital, social media, and influencers, will help spread the word far and wide, assuring maximum effect.
PepsiR's dedication to encouraging camaraderie, self-expression, and overcoming obstacles is admirable. They constructed a memorable ad by incorporating humour into it and collaborating with Zakir Khan.