Read Time:
7 Minute, 11 Second
Instagram has become an influencer's favorite social media place. One can be as creative as they can be. Usually, micro influencers only have one main thought in their mind. How can they grow on Instagram? Well worry not because this article will be containing all the details regarding this aspect.
There are few things which you need to remember when starting on Instagram. There is no hack to grow on instagram but pure systematic work consistent with these 10 things that help you grow on Instagram.
Table Of Contents
Optimize Profile
Well the first step is to optimize your instagram profile. It might sound very difficult and intimidating, especially if you are a beginner but that's not the case at all. Your first approach should be to select or choose a clear profile picture which is suitable for your business or niche.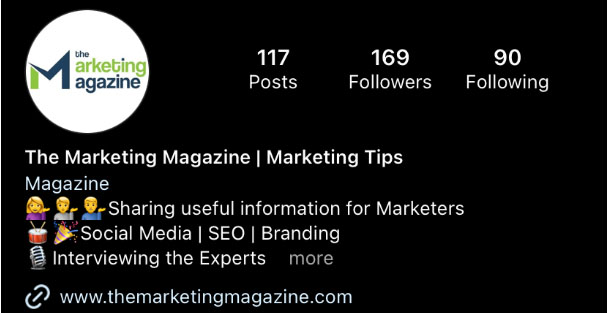 The next step is to craft or create an intriguing, engaging and creative bio. Remember the bio must be representative of who you are or what you stand for. 
If you want to increase traffic to your profile or the business that you are promoting then remember to add links in the profile section. Make use of the story highlights. Most of your faqs should be answered there. 
This will only increase the faith of your viewers, audience as well as consumers on you as well as your brand. Your Instagram page may successfully depict you or your company while drawing and sustaining an avid following by selecting beautiful photos, composing exciting captions, and communicating honestly.
Content Strategy
Creating a productive Instagram strategy for content requires an organized strategy to attract viewers and accomplish the objectives you have set. 
Begin by determining your intended demographic and being familiar with their choices, pursuits, and key concerns. Create an aesthetically pleasing instagram feed that is harmonious with your audience, employing filters, colors, and themes that are appealing to your target audience. 
Don't forget to use instagram features like reels, posts and others. This will only attract viewers more. Make sure to engage with every comment as it will only make your brand look more approachable and friendlier. 
Hashtags
Hashtags are critical components of social media material, including sites such as Instagram. They function as classification tools, allowing users to find and interact with certain subjects or themes. 
By using pertinent hashtags in your social media posts, you boost the exposure of your material to an audience that is larger than your followers. 
Nevertheless, proportionality is essential; choose a mix of popular and specialist hashtags to maximize reach. To improve discoverability and interact with like-minded individuals, look into trending and industry-specific hashtags. 
Make your own hashtags to promote generated by consumers' materials and involvement from the community. Efficient application of hashtags may increase the exposure, engagement, and overall effect of your material on social media platforms.
Engagement
Engaging with your audience is quite crucial as it will guarantee likes and followers which in turn would help you to grow your instagram account. Let's understand the way how audiences can engage with your content.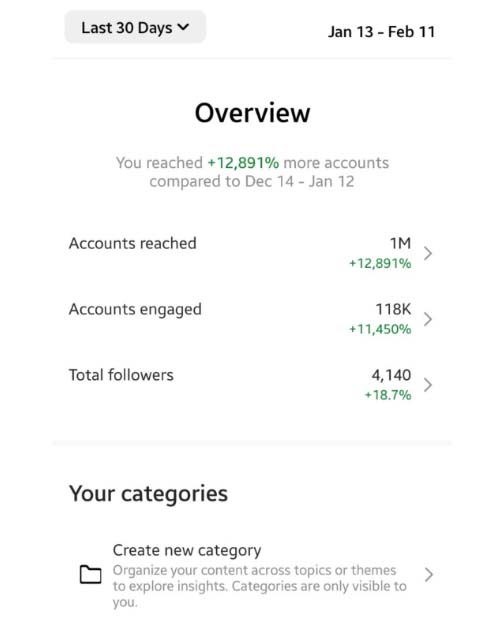 Likes: When audiences or viewers appreciate or resonate with your content, they like your post, reel or content that you have shared on instagram. This is the most basic way of engagement.

Shares: When viewers share your content it increases your visibility.

Comments: The more you engage with your viewers through comments, the more approachable you become. The instagram algorithm favours posts with more comments. Another aspect that one might have missed is that posts with higher comments makes themselves look reliable.
Stories & Reels
Reels and Stories are effective Instagram strategies for quick growth. Stories increase your sense of connection by providing everyday insights into your world. Reels capitalises on current trends with its concise, captivating videos, boosting exposure and gaining new fans.
Both increase engagement, encouraging shares and comments that widen the audience. To increase exposure, use clever material, clever hashtags, and regular posting. These capabilities enable you to maintain a lively online presence, draw in and hold on to an interested audience, and eventually promote natural platform growth. 
Collaborations
Collaborations on Instagram are effective tactics for boosting engagement and visibility. To reach their audience, team up with bloggers or brands that are related to your niche.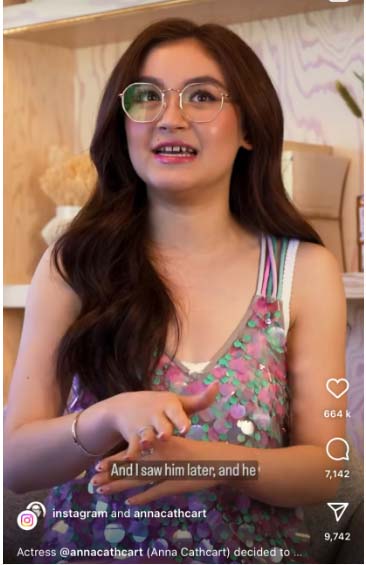 For genuine reverberation select partnerships with the same demographic as your own. Generate material together that reflects the principles and abilities of both sides. Promote each other by using shoutouts, takeovers, or collaborative giveaways. 
Collaborations increase following expansion as well as participation by exposing your online presence to prospective audiences. Collaborations that are beneficial must have specific objectives, smooth interaction, and advantages for both parties. 
By working together, you can increase the visibility of your company, establish its legitimacy, and foster enduring relationships with Instagram users.
Post Consistency
Consistent posting on Instagram is a key driver of success. Regular updates keep your audience engaged and your profile active, leading to higher visibility. Develop a content calendar to plan and schedule posts. 
Maintain a consistent aesthetic and theme to build a recognizable brand identity. Quality over quantity is crucial; ensure each post aligns with your niche and offers value to your followers. Posting too frequently can overwhelm your audience, so find a balance that works for you.
Use Instagram Insights to analyze when your audience is most active and tailor your posting schedule accordingly. Engage with your audience through captions that spark conversations. Incorporate relevant and trending hashtags to increase discoverability. Stories and Reels can complement your main feed, offering more opportunities to engage.
Remember, while consistency is vital, it's equally important to adapt and refine your strategy based on what resonates with your audience. Stay agile and experiment with different content formats to keep your feed fresh and engaging. With a well-executed consistent posting strategy, you can build a loyal following, strengthen your brand, and achieve your Instagram goals.
User-Generated Content
User-Generated Content (UGC) is a powerful social media technique for building belonging, involvement, and credibility. Boost the creation of content for your brand or items by your fans. UGC highlights authentic experiences and gives your feed more legitimacy and variation. To gather and display UGC, establish a customized hashtag. 
UGC should be reposted on your profile with author attribution. It encourages people to contribute and gives people who follow you a sense of importance.
Participation can be sparked by contests and challenges that focus on UGC. Put UGC on display in your stories or highlights. Comment on and like UGC to express your appreciation. UGC makes your business more relatable and uses the power of your own community to gain new fans.
When using UGC, remember to uphold copyright and privacy. Never repost without first getting permission, and remember to give credit. Plagiarism would and will never be a good look at your profile. Make sure to stay away from such controversies.
Instagram Insights
The insights feature on Instagram is a built-in monitoring tool that offers useful information about the performance of your profile. Statistics like interaction, their grasp, impressions, and follower characteristics are available in the Insights section, which is accessible to corporate and artist accounts.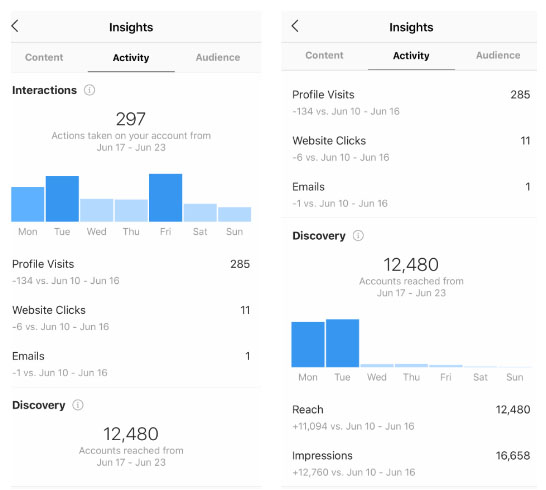 It aids in your understanding of the kind of material that connects with your audience the most, enabling you to adjust your approach. To improve the frequency of your posting , material themes, and hashtag usage, keep an eye on trends over time. 
You may evaluate the efficacy of these transient postings by using the complete information on Stories that Insights provides. You may make wise judgements, improve your content strategy, and build a more active and devoted Instagram following by utilising insights.
Concluding Remarks
There is no full proof plan on how one can grow on instagram. However, following the above points can definitely help you to boost your brand on Instagram. 
Thereby allowing you to gain followers. One must be consistent and never forget your niche. You have to understand your audience and make content that they like, not you. Lastly your content should be reflective of what you stand for.