Read Time:
3 Minute, 23 Second
Alia Bhatt, who is known for her versatility in acting and some commendable fashion choices, was recently announced as the first Indian ambassador for the luxury brand Gucci. This announcement was made after her successful appearance at the highly influential and celebrated Met Gala. This news has grabbed many eyeballs and has garnered widespread praise and admiration from both the fashion industry and the Indian community.
Table of Contents
Gucci's Strategic Move
GUCCI's decision to partner with Alia Bhat is a strategic move that is aimed at strengthening its presence in India. India's fashion market has been growing at an impressive rate in recent years, and it is projected to continue to grow steadily in the years to come. This market represents an enormous opportunity for global fashion brands like GUCCI, and the brand's the decision to partner with Alia Bhat is a clear indication of its commitment to expansion in this region. 
Why is Alia Bhatt a Good Choice?
As a highly influential public figure in India, Alia Bhatt is an ideal choice for GUCCI. Her style and fashion choices have long been admired by her fans and followers, and her influence on the Indian fashion scene is undeniable. She has proved her mettle not only in films but also in her appearances. By partnering with her, GUCCI is hoping to leverage her popularity and influence to increase its visibility and appeal in the Indian market.
Where did Alia Represent Gucci?
Alia Bhat will be representing this brand at Gucci's cruise which will be organised in 2024 at the Gyeongbokgung Palace, Seoul. This partnership between Alia Bhat and GUCCI is not just a commercial arrangement but also represents the coming together of two cultural powerhouses. This partnership represents a significant moment of cultural exchange between Italy and India, two nations with a rich history and culture of their own. This partnership will undoubtedly have a positive impact on both countries and will help foster greater understanding and collaboration between them.
What Alia Shared on Instagram?
Alia Bhat took to her Instagram to share this news. She wrote" I'm honoured to represent the house of Gucci not only in India but at a global stage. Gucci's legacy has always inspired and intrigued me and I'm looking forward to the many sartorial milestones we create together." Alia looked like a powerful boss lady in these pictures and snippets that she shared with us.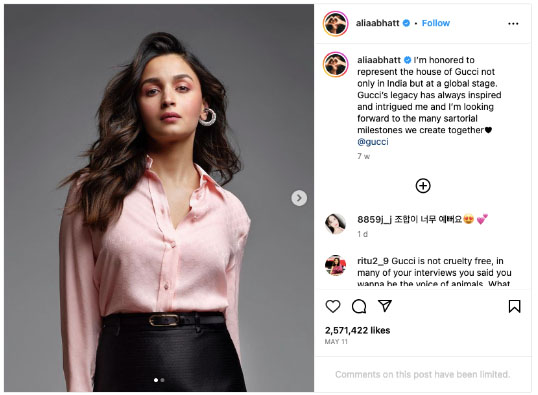 What was Alia Wearing?
We see her donning a pastel pink shirt which she paired with a black skirt accompanied by a belt. She has her signature smokey pastel makeup look on and looks GUCCI ready! This is not the first time Alia Bhatt has collaborated with GUCCI. In the past, she has been spotted wearing the brand's designs at various events and on social media. Her previous collaborations with GUCCI have garnered attention and praise from fashion enthusiasts and critics.
How did People React?
Alia Bhatt's Gucci collaboration met with positive reactions. Alia's fans were elated to see her partner with Gucci. One Twitter user wrote " Slay Queen" meanwhile others seemed to congratulate the actor on her achievement. Alia's friends also congratulated her on Instagram for her achievement. Her BFF Akansha Ranjan Kapoor wrote, " Enough Ya its like I'm on Instagram only to get wowed by you everyday."
Concluding Remarks
In conclusion, Alia Bhat becoming the first-ever Indian ambassador for GUCCI is a landmark moment for both the fashion industry and the Indian community. This partnership represents a significant opportunity for GUCCI to strengthen its presence in India and tap into the growing Indian market. Moreover, it is a sign of cultural exchange between two powerhouses, Italy and India, which will undoubtedly have a positive impact on both nations. We can expect to see exciting things from this partnership in the future.