Read Time:
3 Minute, 34 Second
Threads, which is now Twitter's competitor, was launched by Mark Zuckerberg. Now, this has caused tension between Musk and Mark Zuckerberg. But before going into the details, it is imperative to know what exactly is Threads?
Table Of Contents
What Is Threads?
Threads is a new app created by the Instagram team that has recently been released to the public. This app is designed to allow users to share text updates and join public conversations. Unlike other messaging apps that are focused on private conversations, Threads allows users to create a public space for their conversations. This means that users can share updates with anyone who has access to the app, and can have public conversations with anyone who is using the same app.
What Are The Key Differences?
Twitter has a 280 characters limit whereas Threads has a 500 characters limit. Threads will require users to have an Instagram account in order to create a profile. Now this is a huge advantage as it would allow instagram to have a huge number of users. The ability to easily import bio information and followers will also give Threads an edge over other messaging apps.
The homepages of both the apps are extremely contrasting to one other. While users can get to know about the trending and controversial topics on Twitter's homepage its not the case for Threads. 
Threads also doesn't contain any ads and the features are almost the same as that of Instagram. A user has to hit the button 3 times in order to create a new thread whereas on Twitter it can be done by pressing the plus sign. 
General Opinions
Opinions are divided and people have already taken their sides. While some think that Threads will outperform Twitter, others think Twitter will never lose its originality. Threads has already crossed 100 million . 
Responding to a question on whether Threads can become bigger than Twitter, Zuckerberg said, "It'll take some time, but I think there should be a public conversations app with 1 billion+ people on it. Twitter has had the opportunity to do this but hasn't nailed it. Hopefully we will." 
A very interesting thing to note is that Zuckerberg posted a meme on Twitter after Threads launch.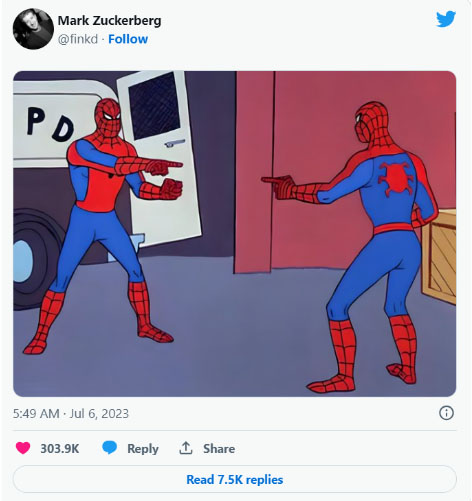 Was Threads Launch a Successful One?
Threads saw more than 30 million users in 24 hours. Now that is definitely a successful launch. While this definitely enraged Elon Musk as Threads supposedly plagiarised the concept of Twitter. After the launch of Threads, Musk has filed a lawsuit against Meta platforms. He even fired a letter to Zuckerberg through his Twitter lawyer Alex Spiro accusing Zuckerberg's company of engaging in "systematic, willful, and unlawful misappropriation of Twitter's trade secrets and other intellectual property."
"Twitter intends to strictly enforce its intellectual property rights, and demands that Meta take immediate steps to stop using any Twitter trade secrets or other highly confidential information. Twitter reserves all rights, including, but not limited to, the right to seek both civil remedies and injunctive relief without further notice to prevent any further retention, disclosure, or use of its intellectual property by Meta," read the contents of the letter as reported by semafor.com.
With that being said Threads is definitely becoming popular with famous celebrity influencers joining this trend and making it more fascinating. Creators like Kusha Kapila, Tarini Shah, Dolly Singh, Ashish Chanchalani, etc. have already joined the party. This is particularly enticing for normal users like us and makes us want to join.
Sara Ali Khan, Karan Johar, Kartik Aaryan, have joined Threads making it even more enticing. Since all the famous celebrities and actors are joining Threads it is safe to say that the trend of Threads is nowhere near to stop.
Concluding Remarks
In conclusion, opinions are sharply divided on whether Threads will outperform Twitter. While Threads has the advantage of a ready user base from Instagram and a variety of features that could make it easier for users to engage with each other, Twitter has a distinct news-oriented outlook that Instagram is unlikely to be able to replicate. Ultimately, only time will tell which platform will come out on top.