Read Time:
2 Minute, 26 Second
Table Of Contents
About Selena Gomez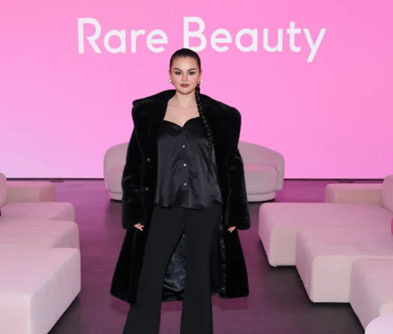 Selena Gomez is well known for her singing and acting skills. One of the most renowned singers all over the world, in 2020 launched Rare Beauty, a makeup brand. Rare Beauty had taken over the world since it benefited customers of all skin tones and wasn't an ableist brand. Selena being the marketing wizard that she is, is now leveraging her new tv show "Murders in the building" to promote Rare Beauty.
Breakdown Of Selena's Makeup Routine
Selena Gomez's face-adorning products were dissected by Rare Beauty Global Stylist Cynthia Di Meo. The routine is made up of a unique collection that was created especially for Only Murders in the Building and is currently on sale at the Rare Beauty website.
"One of the things that I really like about Mabel Mora's makeup…is that it's a very real makeup," Di Meo told viewers during an Instagram Live on July 25. "It looks like, you know, it's something that she created on her own; it's very attainable." Following this statement she went on to create Mora's signature look as seen in "Murders in the building" which amazed her audience as well.
Breakdown Of All The Products
The routine consists of the Always An Optimist Pore Diffusing Primer, Liquid Touch Weightless Foundation, Liquid Touch Brightening Concealer, Stay Vulnerable Liquid Eyeshadow in the shade Nearly Neutral, Perfect Strokes Liquid Eyeliner, Perfect Strokes Universal Volumizing Mascara, Brow Harmony Pencil and Gel, Stay Vulnerable Melting Blush in Nearly Neutral, Lip Soufflé Matte Lip Cream in Brave, and the Blot & Glow Touch Up Kit.
Selena's Marketing Strategy
As you must be aware by now Selena used only Rare Beauty products for her show "Murders in the building" which only exposed Rare Beauty. Selena very cleverly marketed her brand. Rare Beauty has already made a name for herself. Due to her new show being a fan favourite and winning many accolades, her brand indirectly benefited from this.
According to Bloomberg, Selena Gomez's top-selling blush line alone generates $70 million in yearly sales for the company. Its blush products are incredibly well-liked, frequently sell out, and have gained particular notoriety on TikTok; the company sold 3.1 million units in 2022, according to reports. Although the business offers two different blushes, their smash-hit, $23 Soft Pinch Liquid Blush formula is the one that is most frequently purchased by customers.
Concluding Remarks
In conclusion, we can say that Selena's genius marketing strategy made her brand a household name. Only if every celebrity could use their brains and leverage their brands or company like Selena.