Read Time:
8 Minute, 22 Second
Modern purchase trends have changed significantly over the years. If we see modern customers, they preferably research and collect information before actually buying the product. From a survey, it is known that customers recommend your brand only when they are 60-80% sure to give it a shot.
So you can not just sit and wait for the magic to happen for your brand. And at the same time, very few of the customers remain loyal to the same brand till the end. Hence, activities to build brand loyalty for your brand should be introduced.
Brands should focus that loyal customers are the more profitable ones. There is an increased probability that they will stick to your brands even though there are many brands selling the same products. The reason behind this is that they trust your brand and they will continue to purchase from your brand.
This will ultimately increase their loyalty towards you and there is a very high chance of them referring your brand in their circle, making them brand advocates. As a result, the marketing of your brand will increase and also profit. Companies need to invest in building loyalty among their customers.
Utilize these 6 suggestions to turn a casual consumer into a devoted supporter that recalls your company's name, logo, and mission statement and returns frequently.
ENGAGE WITH YOUR CUSTOMERS:
You may build a sense of community and belonging by connecting with your users. To pique your users' interest and encourage them to interact with your brand, provide any recent, noteworthy developments, news, or viewpoints in your niche.
Customers can be informed about new trends, exclusive offers and discounts, and your company's future plans through social media.
Users are more likely to form favorable associations if you urge them to support your brand and give them a sense of ownership. Additionally, happy, devoted consumers are active customers.
To build brand loyalty you must connect, nurture, and work towards keeping the clients that are the lifeblood of your company.
If you have heard about the Pareto Principle: which says 80% of results come from 20% of the efforts. The gap between your best customers and the others, however, is even more pronounced for many businesses: the top 5% of your customers might be worth up to 1800% of the average customer lifetime value (CLV). Therefore, the best and most economical thing you can do to expand your firm is perhaps to bring on just a few more "Super-Customers."
Finding out where you're losing customers and why so few of them stick around as repeat, devoted customers is the first step in doing that. In most cases, it's a result of bad customer service. Make sure your client service is top-notch, especially on social media. This may be a straightforward victory for your brand if you play your cards well.
A simple Thank You card, Happy Birthday, or Happy Holidays wish will also go a long way, according to outdated but still effective advice. Customers want to know that you care about them outside of your commercial dealings with them, regardless of the industry.
MAKE SURE YOUR BRAND IS CONSISTENT:
To build brand loyalty you need to be Consistent. Every time customers connect with your brand, you want them to feel the same way about it.
Consistency is not just about you being regularly active on social media posting and creating reels in the hopes to increase engagement. But Brand consistency includes the use same colors, logo, similar format, same brand tone of voice, and same communication in display creatives thought out the campaign or marketing or at least informing the customer when changing it.
Being consistent takes a lot of effort but it helps establish brand identity and brand position in the customer mindset, which makes it easier for customers to associate themselves with your brand. Read: How brand identity transforms your brand
Understand what your customer needs are:
According to the founders of 42% of failed firms, there was no customer base for the products or services they were providing. Use your consumer engagement to both listen and transfer information; this will help your presence appear and feel more conversational.
You'll discover what your greatest consumers appreciate about your product and what they would alter if they could along the way. Taking feedback can shed light on many aspects which you might have missed. These inputs can be used to create a valuable business and marketing strategy.
Here are the basic things which every customer needs: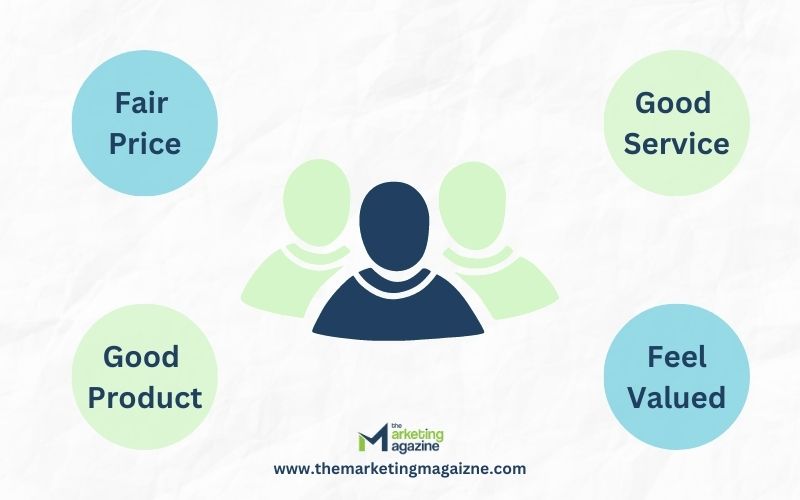 A Fair Price: You have to place your product pricing in the bracket in which your target audience can afford and are willing to buy. Placing the product at high pricing may change the segmentation of your audience which will result in no sales of your product.
A Good Service: Service provided to the customer may vary from your product to customer service to the delivery at their doorstep. Ensure whatever service you have promised or are planning to provide to your service should be up to the mark. A good service can help build brand loyalty in ways you cannot even imagine.
A Good Product: This is the most essential aspect of your business. Whatever it is product or service that you are offering to the customer you have to make sure that their expectations are met. A good value-for-money product or a service which is better than your competition seals the deal and gives you a loyal customer for your business for life.
Feel Valued: At times businesses tend to forget that the customers are not merely money-offering machines but are humans filled with emotions. Emotions play a very important role in users buying choices. Here are a few things to make your customer feel valued

Ask for feedback from your customer
Offer them a discount coupon for being loyal to your brand
Send them greetings in hard copy on occasions
Remember their birthdays and offer them vouchers
Have a customer care executive call them to ask for their experience and any inputs
Talk about them on social media
There are numerous things you can do to make your customers feel valued to build brand loyalty. But remember do not overdo it, doing anything in access can annoy your customer and may have the reverse effect.
Invest in eye-catching visual appeal:
Colors give a visual expression to the sensation, mood, or role that your brand is attempting to elicit while also representing the personality of your brand. With the era of social media, everything has become about how appealing, entertaining, and intriguing activities are happening around the user. Users tend to share those creatives within their circle and maybe your creative could be one of those post ideas on social media which fetch in a loyal customer for your brands.
People who follow a brand on social media mostly associate with that brand or at least think that particular brand is a good brand. Maybe your followers are not current customers but they have a high potential of becoming valuable customers.
In light of this, be careful while selecting your color scheme. For instance, the color red in the Youtube logo stimulates viewers' emotions and ignites their passion for the company. Consider your message: Are you attempting to elicit a response or allay apprehension?
When you continually promote your content, establishing a unified color scheme will help it become recognizable as yours. For brands looking to connect with their customers, the logo's design has become crucial. Do remember a customer would only want to be associated with your brand when you are doing a good job providing what you are promising
Focus on what your brand does best:
Customers want to be able to relate to your brand's mission and basic principles. You are what you do in their eyes. How can you make it simple and quick for people to recognize the values of your brand?
You do not have to go out of your way to show what you are to your customer. Simply be genuine in your marketing efforts and care about the emotions of others and customers and that is all you would need in creating a pool of loyal customers for your business.
'Be definitive,' says Jim Joseph. Your customers will begin to comprehend what you have to offer them if you are more particular. This may drive you to choose the one thing you excel at, but you should stick with your story. Because the customer is smart, so do not try any deceptive tactics to gain the loyalty of a customer
You must ensure that your clients are aware of what you do and feel as though they have been missing it their entire lives and now, having learned about it, they cannot live without it. Thus, you must focus your attention entirely on that one object until it completely fills the screen.
Make your customers come back:
Users are more likely to revisit websites that they have previously used and had positive interactions with. Although they may have saved your website and expected to return, users sometimes aren't paying close attention and won't recall that they had done so. When 2.9 billion Internet searches are performed daily, you must seize every chance to get noticed. One choice is to provide your visitors with reasons to come back to your website by developing loyalty-based programs or by distributing deals and coupons. You might anticipate more business the higher the rewards.
Remarketing strategies using social media and email are other options; they work best when combined. Share your mailing list on social media, email your contacts on social media, and target your consumers on social media by using the website and email behavior.
Design suitable loyalty programs and create campaigns and strategies to reach your customers to make them aware of how being loyal to your brand can work in their favor.